This posts shows how to play Inoshishi World.(日本語のページはコチラ)
Haven't you installed it not yet?
Then, download from here.
Overview of Inoshishi World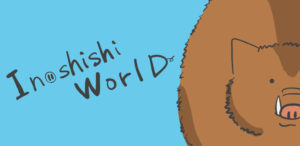 You can play the app even in a short time.
So many stages would make you fun!
Main screen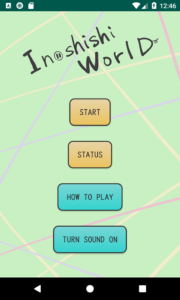 Let's tap "START" button.
You can choose a stage you want to challenge.
Growth of Inoshishi(boars) and trivia you'll get can be check by tapping "STATUS" button.
※Inoshishi is boars in Japanese.
Play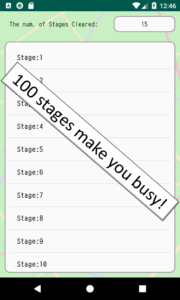 After tapping "START" button, choose a stage to play.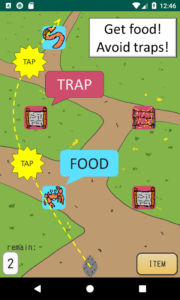 In a stage, foods and traps appear on the screen.
What you have to do is tapping the screen.
Inoshihsi(boars) runs through the points you tapped.
Remaining number of tapping is indicated left-lower area of the screen.
Inoshishi is shown at center-lower area.
"ITEM" button is also shown at right-lower area.
You can purchase items by tapping the button.
Simply put, "Get foods, avoid traps."
If Inoshishi eat enough foods to grow, it will change its shape.
The growth can be check as next topic.
Furthermore, you will get trivia about animals after clearing some stage.
Status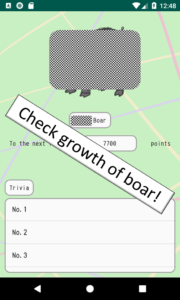 "STATUS" button is in the main screen.
You can check the growth of Inoshishi and trivia you got.