This post shows how to use Kodzukai-cho.(日本語ページはコチラ)
Haven't you installed it not yet?
Then, download from here.
Overview of Kodzukai-Cho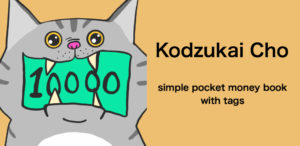 Kodzukai-cho enable you to keep your pocket money well managed highly easily.
You would be able to check your cash flow or make plans to purchase your favorites.
"Kodzukai" is pocket money in Japanese. "cho" is book as well. So, "Kodzukai-cho" is pocket money book.
Functions
Main screen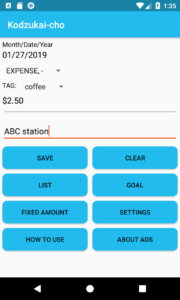 You can choose date, +/-, and tag.
date: tap and open input interface to set the date
+/-: if setting data is income, please choose +. if the data is expense, please choose -.
tag: choose tag for the data. Before input the first data, set tags in another screen introduced below.
Next, input income/expense amount and remark.
The remark can be blank.
There are 7 or 8 buttons.
Save: The data you input are saved.
Clear: The data you input are cleared.
List: data you saved for the month are listed.
Goal: Target amount and date can be set. You can check progress with developing pictures.
Fixed amount: Monthly income/expense can be set.
Tag: Tags can be registered.
How to use: Jump to this web site.
List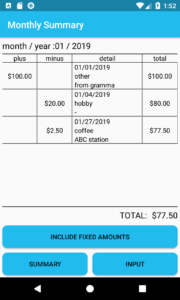 Data you input are listed.
You can edit the data by tapping the data row.
Monthly income/expense is added to the list by tapping a button, Include fixed amounts.
Summary button shows monthly summary referred next topic.
Summary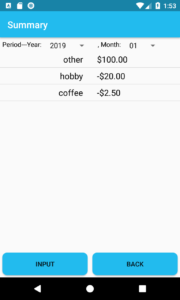 You can review past data by choosing year and month.
Input button leads you to main screen.
Goal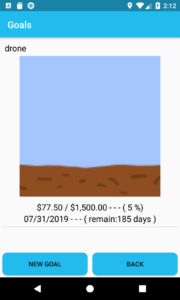 If you visit this screen the first time, no goal is shown.
You can set your goal by tapping New goal button.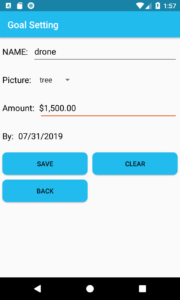 Input name, amount, and limit date of your target.
Next, choose a picture.
The picture develops dependent on amount of your saved money.
The progress is shown with %.
Tag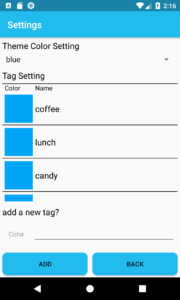 You can register tags here.
Input a tag name and then tap add button.
Monthly income/outgo setting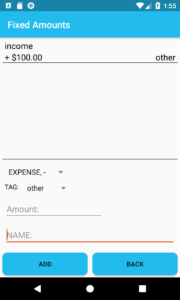 Monthly income/expense can be registered here.
Choose +/- and tag.
Input amount and Name.
Name can be blank.